License Exams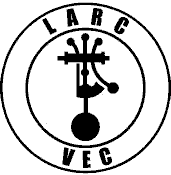 Licensing Authority
The AARC VE Team conducts amateur radio license exams under the coordination of the Laurel Amateur Radio Club Volunteer Examiner Coordinator (VEC) on the second Saturday of every month.
Pre-registration is highly recommended, however walk-in's are welcome on a first-come first-served basis, but this is dependent upon the number of applicants testing who have pre-registered. Plan ahead and pre-register early. We have 18 slots available for exams monthly.
Also, if we have to cancel due to weather or other circumstances we can notify you. And pre-registration facilitates the check-in process.
Check-in takes place at 12:00 pm and exams start at 1:00 pm. NOTE: All amateur radio exams conducted by the VE Teams of the Laurel VEC are FREE.
VE Team Leader
Contact Bill, N3RY by email or by phone (240)446-4311 for more information. You may contact Bill to preregister or use the online form. While we prefer that you pre-register, walk-ins are always welcome. Dates, times and locations of other exams coordinated by the Laurel VEC can be found at the Laurel VEC site or the ARRL Testing search page.