Cold Turkey 10K
Cold Turkey 10K Countdown to November 24, 2024
​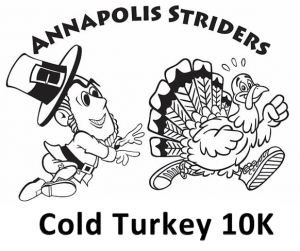 ​ What is there to say.  Its chilly in late November when this yearly event takes place.  This year it's November 19th very close to Thanksgiving when turkeys get nervous.  And where else would a turkey prefer to run but Gambrills, Maryland.  
This event begins and ends at the Arundel Middle School and makes its way out and back through the local neighborhoods.  Its only 10K, so you won't be outside long enough to freeze.
Typically volunteers for this race are home in time for a warm turkey sandwich for lunch.
To take a look at, or download the course for this yearly event, click 2019 Cold Turkey 10K Course.  To look over the assignments list for this event, click 2014 Cold Turkey 10K assignments.  Assignments include Net Controller, Director Shadow, Last Bicycle, 4 water stops and 11 other street assignments.

​