ARRL Requesting Comments on FCC 60 Meter Proposal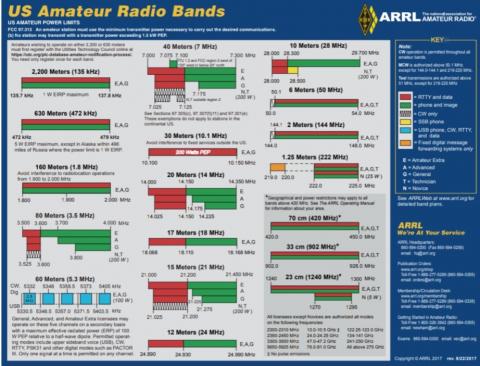 ARRL  The National Association for Amateur Radio® is asking that all radio amateurs urge the Federal Communications Commission (FCC) to continue the existing use of the 60-meter band. A public comment period is open until October 30, 2023. ARRL encourages expressions of support to the FCC for the current 100 W ERP power limit (instead of reducing the power limit to 15 W EIRP) and continuing secondary access to the current channels. 
ARRL has assembled a web page with instructions on how to submit your comments, as well as background information on the issue: www.arrl.org/60-meter-band. 
To submit a filing of your comments for the FCC's consideration in the rulemaking process, go to the FCC web page for the Notice of Proposed Rulemaking's (NPRM) Docket Number 23-120 at https://www.fcc.gov/ecfs/search/docket-detail/23-120.
If you wish to directly enter your comments, select the button labeled SUBMIT AN EXPRESS FILING or if you are uploading a document that contains your comments, select SUBMIT A STANDARD FILING. When submitting your comments, be sure the correct proceeding's docket number, 23-120, is included on the form. Your name and comments will be entered into the official public record of the proceedings and will be viewable by anyone who visits the docket web page.
While radio amateurs are encouraged to include any comments they would like in their submissions, they're especially encouraged to draw upon their personal experiences using the 60-meter band for public service purposes and for its location between the amateur 80- and 40-meter bands, which is critical to ensuring signal propagation to certain geographic areas during variations in time and the solar cycle. 
Some of the main points to comment on for this NPRM are:
Urging the FCC to keep the four existing channels allocated to amateur radio on a secondary basis.
Urging the FCC to keep the 100 W power limit for the four existing channels and the new 15 kHz subband.
ARRL Public Relations and Outreach Manager Sierra Harrop, W5DX, underscored the importance of commenting, urging members to speak up. "ARRL members make up the strongest voice in matters of amateur radio spectrum defense," said Harrop. "Your membership and participation in the rulemaking process both ensure ARRL continues to make the difference when our band privileges are threatened. Please join us in effort to protect our 60-meter band privileges."