Maryland-DC QSO Party Award Presented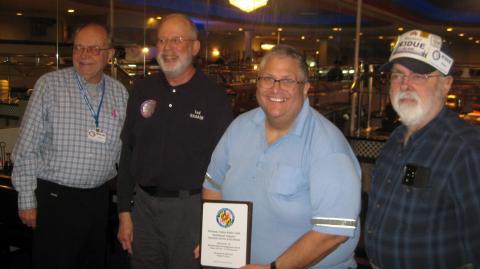 Eric Berman, W3EAB, 2022 President of the AARC presents the winners of the Maryland-DC QSO Party Participation Award, the Potomac Valley Radio Club, Northwest Chapter with the winner's plaque.  This presentation took place at their February 21st, 2023 meeting at Chef Lin's restaurant in Frederick, Maryland.  Their winning effort required 4 operators from 3 locations. 
Those picture from left to right are Gary Clark WR3R of Rockville, Ted Bauer WA3AER of Baltimore and Chairman of the PVRC Northwest Chapter,  presenter W3EAB Eric Berman AARC 2022 President and N3DUE Alan Juers of Sykesville.  Sadly a 4th member of the winning team became a silent key early in 2023.  He was K3ZO Alfred Luan of Temple Hills, Maryland. 
FYI:  WR3R also won the In-State QRP category with 57, 478 points.