Submitted by

AE3D

on Wed, 05/15/2019 - 13:20
Wear you Club Spirit !!!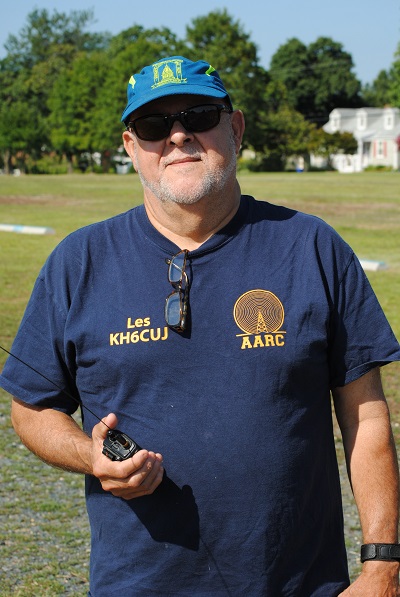 The Anne Arundel Radio Club has been arouind since the early 50s, so I'm not shure when the club ordered its first batch of club T-shirts but I'm sure its been more than 40 years.  In the above picture Les Silva is sporting a call sign he got in Hawaii, and the AARC Logo as designed by, now Silent Key, Dick Jessup N3FN, who was President of the AARC in 1982.  The logo was acutally designed and adopted in December of 1979 and went almost immediately into print on classic, navy blue, Nylon Jackets sold to club member that same year.  We had less than 100 members then.  The shirt Les is wearing was likely the most popular clothing item the club has ever sold, though we've also had a popular line of blue or tan polo shirts.  
So as our club logo passes its 40th birthday, we have a new line of AARC clothing available in a number of styles and colors, sporting that same logo N3FN designed so long ago, and the names call signs of many of our now 200 plus members.  Please take a look at what is available, and take your pic.
We will be taking orders till June of this year from club members only, then a single puchase will be made, and items delivered at our regular club meetings.   After that additional purchases may be made at other times in the year, featuring weather appropriate apparel.  Plus, some items, where quantity discounts don't apply, will be available year round.
Each web page listed below is its own order form.  Just fill it in, click "Submit" and an email will be sent to our clothing sale coordinator placing your order.  We will collect funds when the items are delivered.  Just remember we can't give refunds once the item is properly created for you, as this is all custom made merchandise.  If you you don't see any web pages listed below, and you are an AARC member, you should log in now to see them.  Those who aren't members, we're sorry, but Anne Arundel Radio Club club clothing is for members only! 
We invite our members to wear their Anne Arundel Radio Club spirit proudly!    73s.....